Chanel Haute Couture F/W '13-'14
Can fashion reflect reality, and through its language make us think?
Perhaps Haute Couture, an art form that's the result of study and research, can do it, in its dialogue with the whole world.
Let's talk about Chanel Haute Couture fashion show fall / winter '13-'14, a fashion show that is almost equivalent to a perfectly staged theatrical play. And it is no coincidence that I'm talking about stage and scene, because the scene  that was set up inside the Grand Palais is a show that has been designed and produced in an entirely rebuilt theater: the stage with its curtain and the backdrop, the audience and its armchairs.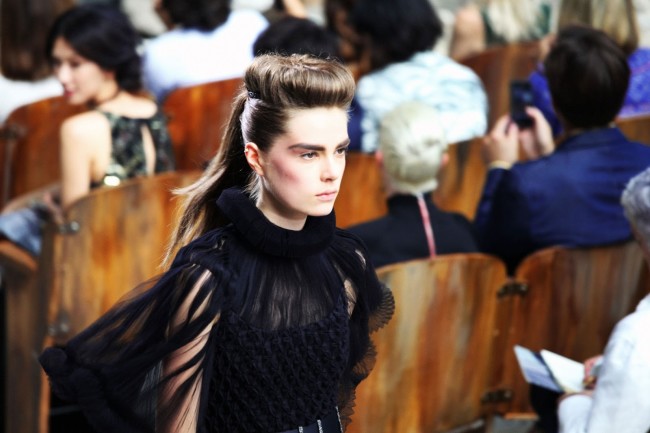 It is, however, a run-down theater, full of debris, dust, with ruined seats, a filthy curtain, scaffoldings holding up bits of a collapsed ceiling.
A glimpse of a world in full decay, in which the audience probably will not even notice its current state and observes the future before him, motionless, while immersed in the uncertainties.
The curtain rises and the models parade on a futuristic backdrop, a bit aseptic, a bit unreal.
Everything is studied in detail, it's a great scene that fits well one of the most anticipated and "illustrious" catwalks of Paris, like a large theater premiere.
Will it be enough to focus on creativity, on the genius of visionaries and artists? We don't know whether to believe it or not, but deep down we hope for it.
Chanel tries and shows us their vision, and maybe they are successful in their intent, to amaze and enchant leaving his audience speechless; to distract us and enjoy the show, before the curtain falls once again.